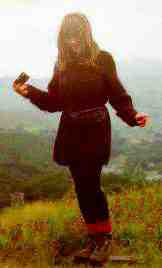 Naomi in black mohair dress
and knitted leggings
Hello. My name is Naomi Sweaterdress and I just love to wear soft and fluffy sweater-dresses with big cowl necks and thick woolly tights.
These few pages are just a collection of images and thoughts about my obsession with snuggly knitwear.
My old Geocities site is now closed. If you need to contact me, use one of the forums below until I fond time to do a contact form here.

Thank you so much for you support, and please keep mailing me with your comments and ideas.
Places I can be found online are;
See you around .....
Images:
New Green Dress (Apr 2005)
Details about a very special sweaterdress.
Fotopic Gallery
Go here for on-line image collections.
Scrap Book
I found an old scrap book of mine from the 80's. Here's some of the images from it.
Scrap Book 2
And here's some more images from the scrap book. i
Grattan
Catalogue scans from Grattan Winter 2003 mini catalogue.
River Island
Catalogue scans from River Island Winter 2003. Fluffy soft sweaters and a neat sweaterdress. Oh my god - want one!
TCFS
Video captures from an old knitwear fashion show - exclusive to Naomi Sweaterdress. They are from and old video tape I rediscovered recently - from the late 1980's I think - hence the poor quality.